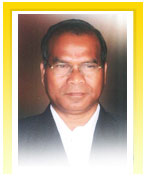 NOBLE CAUSE

It is a joy to announce that the closing ceremony of Golden Jubilee is on the 1st December, 2015. After the inaugural ceremony of golden Jubilee year on 1st December, 2014, a large number of mega events were conducted for the students at Inter school and State levels. All these events such as inter school football, basketball, volleyball matches, debates, group song competitions at primary and Secondary school levels, were well organized and conducted by Campion school with the help and support of the staff members. At this moment I express my heartfelt congratulations and thanks to all staff members for their full co-operation and commitment.

During this Golden Jubilee year, I also extend my heartfelt thanks to all the Ex-Campionites (Students) to be part of Campion school Golden Jubilee celebrations. The good news is that with the efforts and support of Fr. Dr. Principal, Fr. Vice Principal and school Management, the Old Students Association is coming soon into its existence in a new shape. On 29th November, 2015, there will be a mega gathering of the Ex-Campionites just before the closing ceremony of Golden Jubilee.

With immense joy I extend my warm welcome to all the Ex-Campionites to be present for the gathering on 29th November and the closing ceremony of Golden Jubilee celebrations on 1st December, 2015.

On this Golden Jubilee Year I as The Principal, with the staff members, have thought, planned and decided to extend new Library rooms, a few rooms for classes and a Swimming Pool, for which you EX-CAMPIONITES and Other Well wishers, your Selfless Financial Contribution is required.

It is highly appreciated if you could donate / contribute some financial help for this noble cause.
For Any Financial Contribution / Donation details are as under:-

For Remittance from India:-
A/c Name: GOLDEN JUBILEE A/C.
A/c No. : 5020 2633782.
IFSC CODE : ALLA0212238.
MICR CODE : 462010018.
BANK NAME : ALLAHABAD BANK, CAMPION SCHOOL BRANCH BHOPAL (M.P.)
Let All the Campionites or Ex-Campionites Come together and explore more for our School CAMPION SCHOOL.
Fr. Dr. Athnas Lakra S.J.,
Principal
Campion School, Arera Colony Bhopal.